SORBUS.org launches new philanthropic collaboration with Peter Coates and Staffordshire University
Following its launch, SORBUS.org, our not-for-profit administrative service for philanthropists and registered charities, is honoured to be working with the Peter Coates Foundation and Staffordshire University on this great initiative supporting the development of talent in our local area.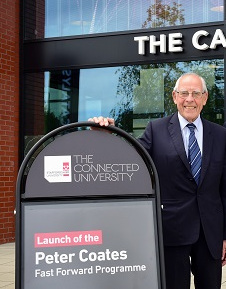 The Peter Coates Foundation will receive a £20m donation from Peter Coates.
It has teamed up with Staffordshire University to launch the Peter Coates Fast Forward Programme. Beginning in January, the programme will offer emerging entrepreneurs the skills, funding and support they need to start new high-tech businesses in Stoke-on-Trent.
Participants will study for a year to achieve the newly created Peter Coates MSc in Entrepreneurship at Staffordshire University. This is a unique programme in the UK that has been designed with one purpose: to give budding entrepreneurs the skills, experience, support, confidence and opportunity to thrive.
To ensure that this opportunity is accessible by those who have drive and ambition, but do not have the full academic record or financial support to undertake such a programme; full bursaries are available from the Peter Coates Foundation and non-academic criteria will be used to support applicants. 
At the culmination of each one-year course, up to 30 teams of graduates can each pitch for up to £200,000 of venture capital investment and ongoing mentoring support to start their own businesses. This boost will give founders the resources and connections they need to become part of a dynamic enterprise cluster. 
Peter Coates said: "With this new programme, we want to help our city and region by accelerating its entrepreneurial success. We want to give everyone who has ambitions to start a business the skills, funding and support in order to give it the best chance of succeeding. I want to create a legacy of a thriving and growing ecosystem of new high-tech businesses to drive the economy and region forward." 
Staffordshire University Vice-Chancellor and Chief Executive Professor Martin Jones said: "We are delighted to be teaming up with Peter and the Peter Coates Foundation on what could literally be a life-changing opportunity for individuals accepted on to the course. 
"Working with and alongside those SMEs who are currently involved in the University's Innovation Enterprise Zone, we believe the new one-year course will help to create a dynamic enterprise cluster and bring new job and wealth creation to our city and region. This is very much in keeping with our responsibilities as a Civic University to improve the regional economy, support quality or life in our local communities and develop higher level skills in business and industry through the retention and development of entrepreneur graduate talent."
About Peter Coates Foundation
The Peter Coates Foundation has been born out of Peter Coates' deep roots in the Stoke-on-Trent area and his philanthropic passion for giving back to his community.
The age of the industrial city is over, at least in the West, and it will never return. Over the last century there has been an increasing divergence between cities that succeed (London, Hong Kong, New York, Los Angeles, San Francisco etc.) and those that are falling behind.
We believe with careful planning, a bold vision and the support from our leading entrepreneurs, Stoke on Trent can reverse the post-industrial decline that affects most cities outside London in the UK, and become a leading city for innovation and wealth creation. 
One of the key determinants of a successful city in a modern digital economy is the ability to nurture, attract and retain human capital, and for this talent to be fuelled with venture capital and to be engaged in wealth generating, job creating enterprises. The clustering of these people generates new ideas and makes each of us more productive, which in turn makes the place we inhabit more successful, generating increased output and wealth. 
Peter Coates' vision is to enable this regeneration through three mutually supportive activities:
To hone talented people with the skills and tools they need to identify business opportunities and launch new companies. 

To fuel these new companies with venture capital. 

To support the wider Stoke-on-Trent ecosystem through funding additional urban regeneration activities by partnering with local charities.
The administration of The Peter Coates Foundation will be managed by SORBUS.org, the not-for-profit division of SORBUS Partners, a leading Private Investment Office, that supports the philanthropy of their clients. 
Max Thowless-Reeves, Founding Partner at SORBUS Partners said: "We believe we can have a significant impact on our city's future with this project. Stoke-on-Trent and North Staffordshire will be re-energised with this perpetual stream of new high-tech businesses. These are the building blocks that will create an expanding ecosystem of high-quality jobs and opportunities. These new ventures will, over time, also provide a magnet for professional support services and additional venture capital which will generate its own self-sustaining momentum. 
"The impact of this legacy is not short term; it is intended to last for decades, even generations.
"We are delighted that Peter's generosity is enabling this project to come to life, and are excited to be working with him, the Trustees and Staffordshire University ."
About Staffordshire University 
Staffordshire University is a Civic University which plays a leading role in improving the regional economy and enhancing quality of life in local communities. We pride ourselves on being connected to the needs of students, academic partners, business and society. 
We ranked 6th for social inclusion in The Times and Sunday Times Good University Guide 2022 and were in the top 15 for Student Satisfaction in the Complete University Guide 2022.
Our main city campus in Stoke-on-Trent features excellent learning and teaching facilities and good transport links. We have a Centre for Health Innovation in Stafford and our Staffordshire University London campus is committed to preparing students for careers in new and emerging tech industries.