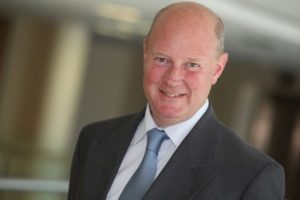 Subsistence farming has transformed the lives of hundreds of millions of Chinese people. This process is getting stale in China but will be replicated in other populous nations. Brazil and sub-Saharan Africa have made headway already and Indonesia, Pakistan, Nigeria and Bangladesh amongst others could find their economies transformed in the coming decades.
For the time being we will watch the coming disruption from the sidelines, but our intrinsic optimism for emerging markets suggests we will be looking to allocate increasing amounts of capital to these markets when the valuations have become sufficiently attractive to overwhelm the risks, however this appears unlikely in the short term.
In my long career in the financial services industry with KPMG I had the privilege of working in most parts of the globe and with the leadership teams of world leading companies. Until relatively recently these corporate titans crafted market positions in their particular sectors where they were unstoppable. The barriers to entry for new competitors were so high that these titans were able to exercise control over pricing and service levels with few if any competitive tensions that unsettled the status quo. In the case of the financial services sector there has been growing criticism that too many of these titans grew into vehicles to promote an ever increasing bonus culture for those that were employed by them rather than clearly putting their clients best interests first.
But this position is definitely changing. We are seeing a growing number of so
called "small players" that are successfully challenging the business models of established global titans. For example:
Zip Car has revolutionised the way consumers hire motor cars (so much so it was acquired by Avis);
Revolution Money has transformed the person to person online payment system (so much so it has been acquired by American Express); and
Living Social that now has over 70m customers and has attracted significant investment from Amazon.
What do each of these companies have in common, very simply: a ruthless determination to create a demonstrably better customer experience; and a pricing model that challenges the soft underbelly of the established titans.
This was the appeal to me when I was approached to chair the Advisory Board for SORBUS. The Wealth Management market for high net worth families has more than its fair share of so called titans and through this industry norms have evolved on service provision and in particular pricing. The SORBUS commitment to build a wealth management business that genuinely puts the clients interests first and at a price that reflects the SORBUS skill and expertise in delivering this is a true differentiator. These may seem lofty ambitions in a market that is traditionally inflexible to change but I believe the SORBUS business model will appeal to a growing number of families through its:
Partnership structure that underpins genuine independence. Each clients' requirements are bespoke and not moulded to fit into a predetermined portfolio of house products or recommendations;
Depth and breadth of research that is built from a variety of sources (and not one house) which can not be matched even by the global titans;
Portfolio performance focus that is not driven by trying to be no worse than an industry average (thereby safeguarding bonus payments) but  is driven by delivering an agreed absolute return;
Pricing model that rewards technical skill and expertise rather than a model based on the quantum of funds under management. The size of a portfolio will not drive outperformance so why should a £50m portfolio typically attract wealth management fees that are 10x a £5m portfolio? SORBUS fees do not rise in line with the portfolio size.
Time will tell if the SORBUS model will be the next Zipcar, Revolution Money or Social Living but so far the signs are very encouraging.
Steve Hollis is Formerly Midlands Chairman for KPMG He is one of the Midlands' best known business figures having had an illustrious career at KPMG. He is deputy chair of the Greater Birmingham and Solihull Local Enterprise Partnership and has served on a number of private and public company boards.