Professor George Feiger joins Advisory Board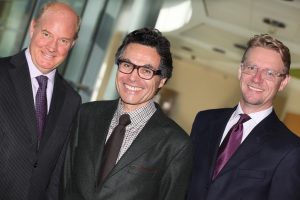 Professor Feiger has considerable experience within the financial services sector having held senior positions at both UBS and SBC Warburg in the US.
Steve Hollis, Chairman said:
"To attract someone of George's calibre is indicative of the interest SORBUS is creating.  Their model genuinely puts the interests of the client and not the firm first, stripping out unnecessary cost and providing impartial stewardship of wealth. SORBUS has already started working with some of the UK's wealthiest families clearly highlighting that their approach is resonating with clients and industry talent alike."
Professor Feiger, who is currently Executive Dean of Aston Business School, has extensive finance credentials in both a commercial and academic context.
Before joining Aston Business School in June 2013, Professor Feiger was the Chief Executive of a $3.4 billion wealth management company in the United States. Private sector roles have included Head of Strategic Planning at the Bank of America's world banking division, Senior Partner at McKinsey and Co, Global Head of Investment Banking for SBC Warburg, and Global Head of Onshore Private Banking at UBS.
His academic credentials include appointments as Associate Professor of Finance at Stanford University's Graduate School of Business and Lecturer in Economics at Harvard. He has served on the Advisory Board of the Berkeley Centre for Law, Business and Economics.
Professor Feiger said:
"The financial service industry has lost its focus and has moved away from placing the client first. As a challenger within the industry SORBUS has developed a model that reverses this.
"Since its formation just two years ago they have made a considerable impact by challenging the industry's business model, resulting in high levels of interest among some of the UK's wealthiest families.
"I'm looking forward to becoming part of the Advisory Board to help develop this model further."
Max Thowless-Reeves, a founding partner of Sorbus Partners said:
"Professor Feiger has a perfect combination of high level academic and commercial acumen and will further add to the high calibre of expertise of our Advisory Board.
"The economic environment is hard to judge and making the correct investment decisions requires experience, insight and intellectual rigour. George's contribution will reinforce and extend our intellectual capital and will help us continue to successfully steward our clients' wealth in what will be challenging times."  
A video of Professor Feiger's 2014 Lunar Society Lecture can be found using the following link. "If wishes were horses, Beggars would ride"